The photo above was taken in our dojo. This local pirate gang we've been feuding with hired this hotshot karate fighter to come in and challenge our best ninja. Pirates are such cowards! I mean, they didn't DARE send their toughest pirate to fight. NO WAY! They sent this karate thug to do their dirty work. Anyway, we thought it was a girl at first but it turns out it was just a geeky Tae Kwon Do dude. So he comes in and he's all "I challenge your best ninja! If I win, you must turn your school over to the pirates!" We're all, like, "Yea, baby! It's on!" So as a joke we sent our WORST fighter, NinBob, to mix it up. The Tae Kwon Do geek starts striking these stances and yelling "KIAI!!" And NinBob is like, "I'm not even over there yet! I'm WAAAYYY over here!" and the Tae Kwon Do geek says "Is that a CHALLENGE!!??" And NinBob says, "You already challenged, bonenugget and I'm on my way over there to fight." The Tae Kwon Do geek says, "You want to fight??!! You fight MEEE!" and he starts doing these pretty flipping kicks high above his head like he's fanning some really tall guy with his foot. So NinBob draws his SWEET ninja sword and runs over and cuts off the Tae Kwon Do geek's head. We had some cute Asian girls come in and clean up the mess and then we partied. Boy did we make the pirates look like a bunch of dickweeds that day!
NOTE FROM GRAND MASTER BILL:
My apologies for the over-enthusiasm of our webmaster. The above incident as described is only partly true. First, the Tae Kwon Do geek was not sent by pirates. We do not know any pirates and would probably not feud with them if we did. A local McDojang called "Tommy Almond's Tae Kwon Do Extra" sent him to spy on us because we're taking all of his students. He and NinBob began to argue and got into a fight- which went exactly as described above except NinBob did not decapitate the TKD geek. He just kicked him in the nads. Hard. The cute Asian chicks came in to clean up where the geek puked after getting his jimmies jangled. He limped back to Almond's McDojang where he probably got another beating for being such a wuss. Then we partied.
B.W.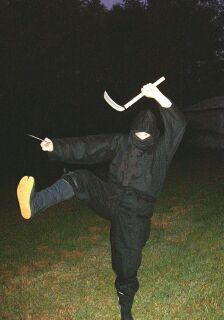 Here's NinBob executing a SWEET Ninja Kick. The Ninja Kick is totally devastating. It's one of the most difficult moves but NinBob is an expert. He can execute it even while brandishing ninja weapons!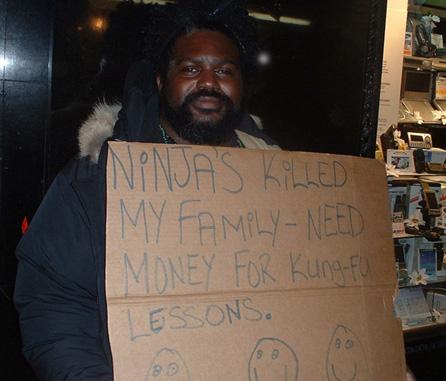 And we will be waiting for you, oh homeless warrior. Oh yes, we WILL be waiting....