For a limited time we are making new memberships available to gaijins everywhere! Join the most super-secret, most elite Ninja clan in the world. Join Tanjun Ryu!
Have you ever wanted to be a real honest-to-gosh NINJA? Have you ever dreamed of being able to move through crowds invisibly or somersault over someone's head while delivering a sweet DEATH TOUCH? Well here's your FIRST STEP towards making that dream a reality! JOIN THE TANJUN RYU!
Here's How
To pay by paypal or with credit card, simply click the BUY NOW button on the bottom right section of this page and fill in your info. Your kit will ship within 24 hours!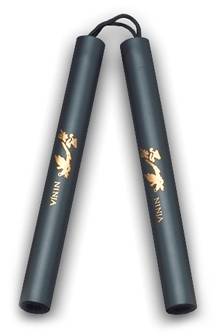 Ninja Nunchakus!
Get these extra-super-SWEET ninja training nunchakus to practice your skills safely. Each full-sized 12-inch club is foam-covered for safety. Hey- there's nothing worse than getting a set of bashed nads when trying to impress the honeys!
ONLY $6.99!! (MEMBER PRICE $5.00)
| | |
| --- | --- |
| | $5.99 plus $2.00 shipping (non-members) |
| | |
| --- | --- |
| | $5.00 and FREE SHIPPING (members ONLY) |
"My ninjas! Ever since I got my Certificate of Ninjafication, my life has been a ROCKIN' PARTY! As soon as the chicks spot my Certificate, they're all up ons! Thanks Tanjun Ryu!"
B. Sayers, Waco TX